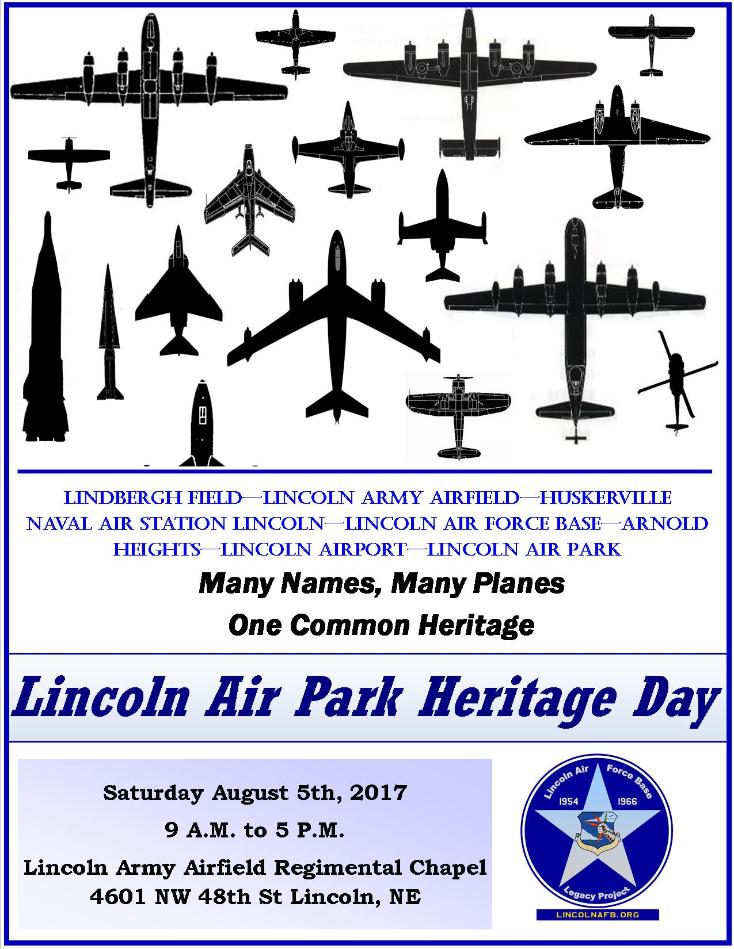 On August 5th, 2017 the Lincoln Air Force Base Legacy Project is presenting a new "Museum-For-A-Day" event at Lincoln Army Airfield Regimental Chapel on Northwest 48th Street in Lincoln. Exhibits on Lincoln Air Force Base including the missile and bomber mission will be presented along with new models and displays on World War II Lincoln Army Airfield. Lincoln Airport Authority will also be presenting some exhibits along with Lincoln Housing Authority with Arnold Heights displays. Come on out on Saturday to talk Lincoln aviation and discuss the future of Lincoln's great aerospace heritage.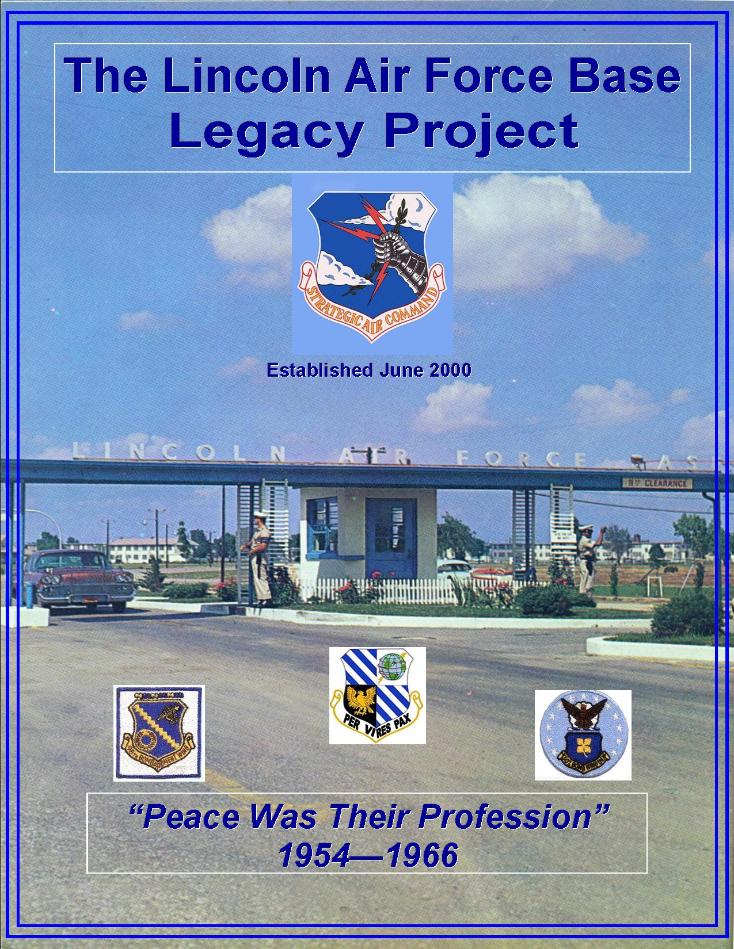 From 1954 to 1966, Lincoln, Nebraska was home to Lincoln Air Force Base. Lincoln was regarded as one of America's most important bomber bases of the 1950s with

100 Bombers
40 Tankers
12 ICBMs
and 6,200 Servicemen

With Nike anti-aircraft missiles standing guard nearby, the airmen and officers of Lincoln AFB stood long guard awaiting the call they hoped would never come, to fight World War III.

In 1966 the base closed becoming Lincoln Air Park and Arnold Heights. Explore the Force for Freedom you never knew existed
.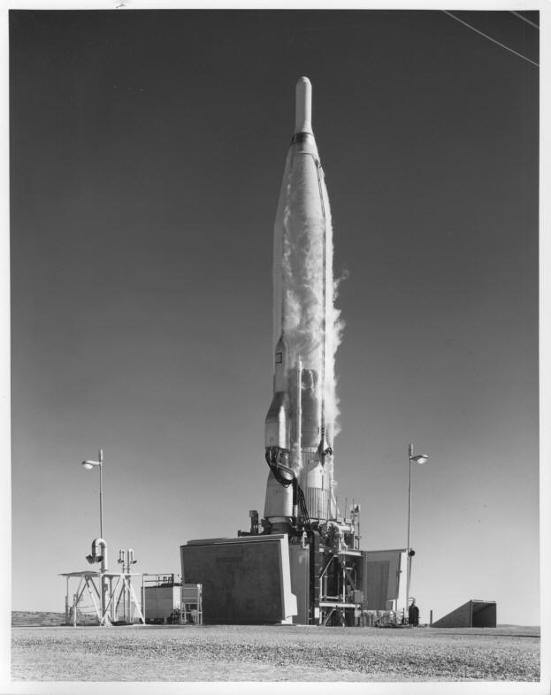 An Atlas-F missile out of its silo during a "propellant loading exercise"
-Photo from siloworld.net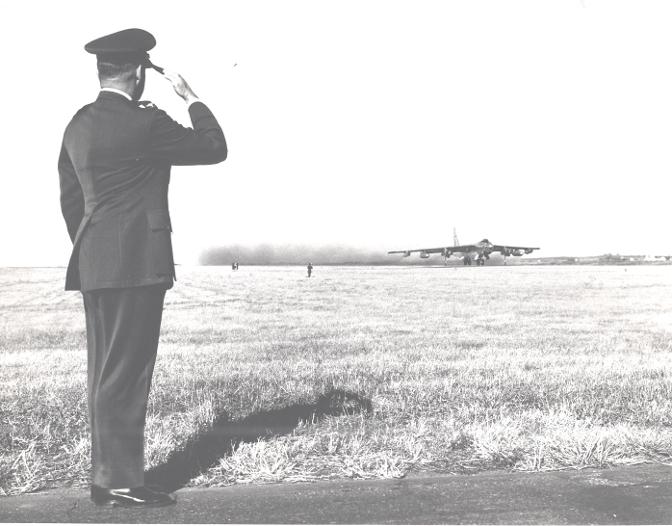 Col. Clifford James Moore, Jr., Base Commander, salutes the last B-47 to serve at Lincoln on December 7th, 1965
(Photo by Jim Dunlap)

News:
Bowling Lake and the 1956 Lakenheath accident
page established
YouTube Channel
established
Due to the increasing activity off the website including exhibits, lectures and other projects. The Lincoln Air Force Base Online Museum has changed its name to the Lincoln Air Force Base Legacy Project to more appropriately explain what we do.
New Base Building Directory on Flickr Now Open!
We should have a good number of existing (and some no longer existing) building pictures posted!
We are on the lookout for the serial number of a C-47 that used to be on display at the base, located once behind the chapel near the main gate. If you have any photograph please let us know! Marion Brown has a great page of Lincoln AFB "museum" aircraft that once were at the base but have been long since removed.
Visit here.


Come visit our
"virtual"
actual museum artifacts we hope to find a home for someday!
Also wanted to update a link to a great Lincoln AFB site at
www.lincolnafb.com
This guy is doing a great job and has much more on Lincoln AAF than I do, check it out!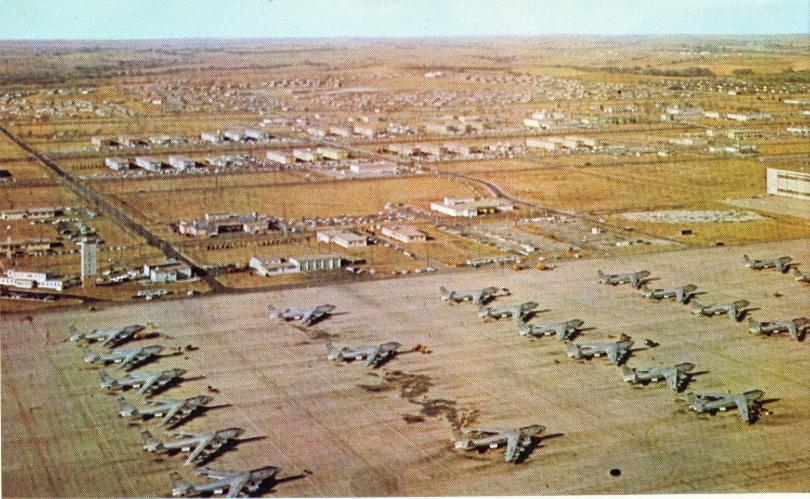 A look at the Lincoln flightline about 1963, note base operations on the far left near the tower, fire station #1 near left center, the 307th hangar on the far right and the lines of barracks in the background - Photo by James Dunlap
________________________________________________________________________
To preserve the history of the former Lincoln Air Force Base located in Lincoln, Nebraska, U.S.A. from 1954 to 1966 along with its veterans and workers through research, documentation and education.
In addition, to preserve the history of the former Lincoln Army Air Field, the 6th Missile Battalion/43rd Artillery U.S. Army and the overall Cold War history of the Lincoln, Nebraska area.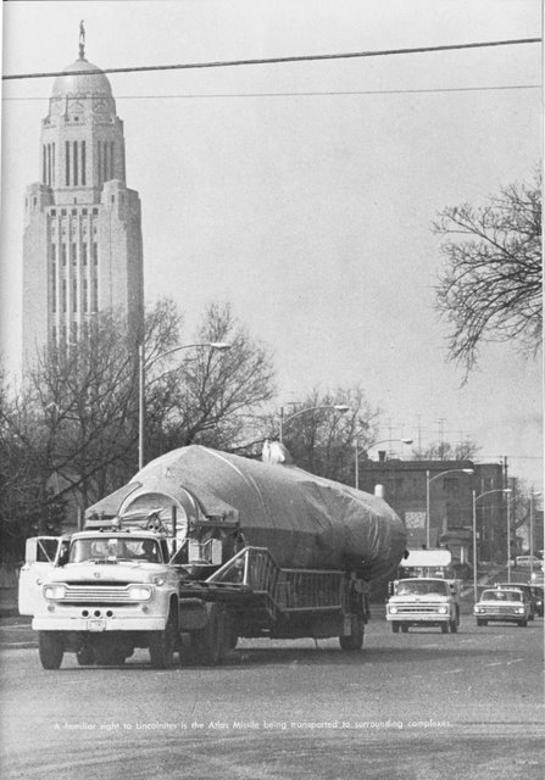 An Atlas-F Missile passing the Nebraska State Capitol on its way to a silo in Eastern Nebraska

Stay Tuned for new updates and construction!
Contact Me at
LAFB@Lincolnafb.org
Note: Due to time constraints I might not be able to reply immediately!