34th Air Depot Squadron / Munitions Maintenance Squadron
Activated: 1958
Deactivated: June 25, 1966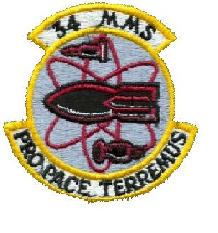 Mission:
"Provide for receipt, storage, issuance, maintenance and loading of all classes of airborne nuclear weapons, and/or as appropriate, conventional weapons"
History:
Before 1958, tasks involving nuclear weapons were split among the Armament and Electronic Squadrons, the Air Base Group and a special munitions officer within the 818th Supply Squadron. By 1958 the 34th Air Depot Squadron came into existence and was soon renamed the 34th Munitions Maintenance Squadron.
The squadron maintained weapons at Lincoln until the departure of the nuclear arsenal at Lincoln during November 1965 and after this maintaining small arms but deactivating the squadron before any relevant activities were transferred into the 4255th Air Base Squadron
Links:
The Bomb At Lincoln
An Excellent history of the MMS mission within SAC can be found at this off-site web page.
Role at Lincoln:

The 34th MMS worked to maintain Lincoln AFB's nuclear weapons as well as 20mm cannon, Jet-Assisted Take-Off (JATO) bottles as well as other ordinance. Explosive Ordinance Disposal were also assigned to this squadron.

Working behind the barbed wire within the bunker complex, members could also be found well guarded uploading and downloading nuclear bombs from B-47 bombers on the flight line.