OPERATION "REFLEX ACTION"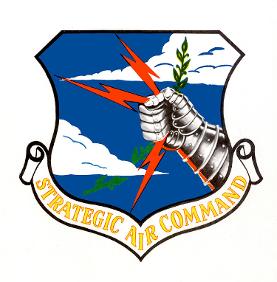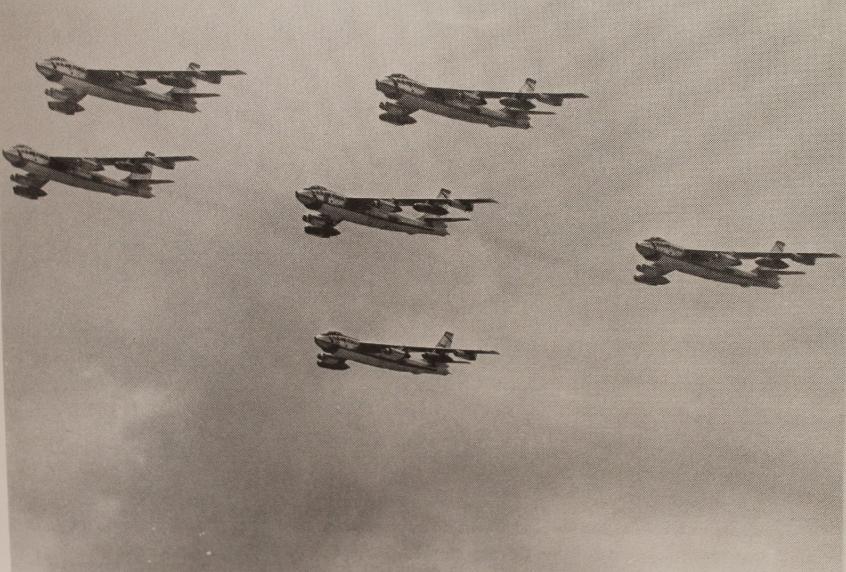 Nicknamed "The Steel Trap", B-47s from Lincoln Air Force Base joined others from the Strategic Air Command at overseas bases within closer striking range of the Soviet Union from 1958 until 1965. These nuclear-armed aircraft stood on alert near runways at such places as Upper Heyford in England to Zaragoza in Spain with a mission not only of nuclear deterrence against the Warsaw Pact, but as a reassurance to European allies of American resolve. By 1965, continental based weapons in the United States like the B-52 and Minuteman missile negated the need for extensive overseas basing and Operation "Reflex Action" was ended.
Beginnings
With the loss of continental European bases during the early years of World War II, the United Kingdom stood alone against Nazi Germany after June 1940. As the United States entered the war in December 1941, Army Air Force planners set about making England a veritable "unsinkable aircraft carrier". Royal Air Force bases expanded, and soon American B-17 and B-24 bombers were making runs over Nazi-occupied Europe and would continue the bombardment until the end of the war there in May 1945.
British runways saw fewer take-offs in the years immediately after World War II, however the threat of the Cold War in Europe saw the return of American bombers - initially in the form of the B-29 Superfortress. The 307th Bomb Wing was in fact transferred to England during the Berlin Crisis of 1948, and soon rotational deployments by B-50 bombers became frequent. While the United States was developing a nascent force of long-ranged B-36 bombers, most nuclear strikes envisioned against the Soviet Union demanded closer bases in Europe and Asia.
This held true with the advent of the B-47 Stratojet, as, while it's performance over the B-29 was superior, it's range was still limited due to the "thirsty" nature of early jet engines. SAC went about developing an aerial tanker force to support it's medium-ranged bombers, but soon invested in the promising B-52 program, a bomber with intercontinental range that didn't require staging through overseas bases.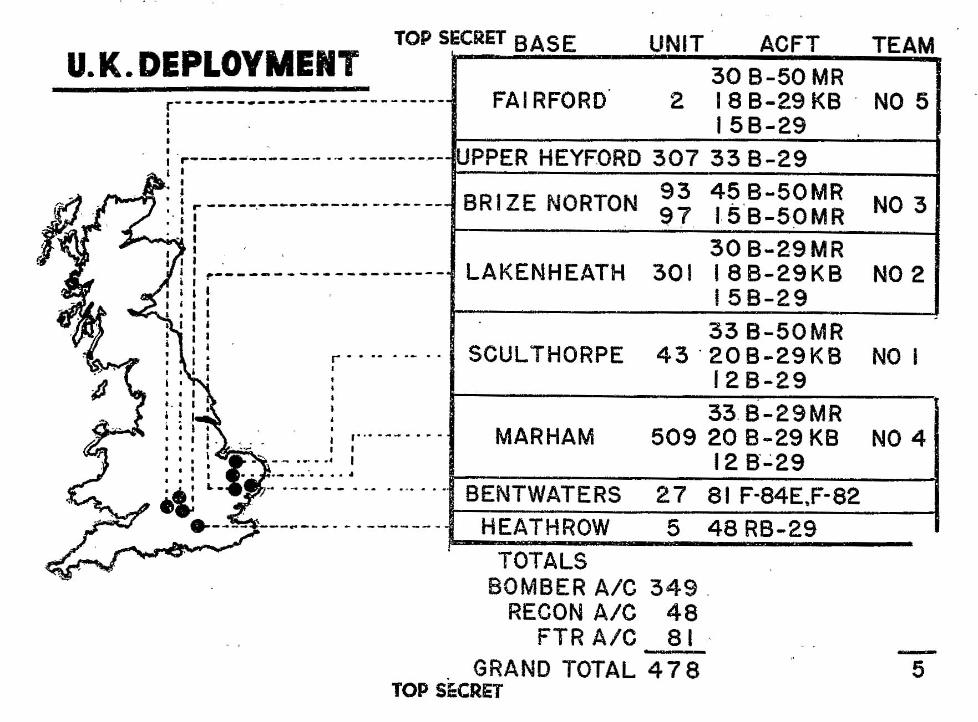 Staging for SAC bombers in the event of World War III (War Plans Off-Tackle and Trojan) in early 1950 before the Korean War. B-29s and B-50s marked 'MR' have nuclear capability whereas the 307th B-29s at Upper Heyford did not.
TDY
Temporary Deployments to British bases were standardized by the time Lincoln Air Force Base activated, requiring 90-day tours overseas and demanding a great deal of equipment be brought along with to support a bomb wing of 45 B-47s and 20 KC-97s (including administrative and maintenance personnel). The 98th Bomb Wing would experience it's first and only "Red Cap" temporary deployment to RAF Lakenheath from November 1955 to January 1956 while the 307th followed suit from July to September 1956. It was during this time that the
Captain Russell Bowling incident
occurred. KC-97s were stationed at RAF Greenham Common for both Wings.
TDYs continued for other SAC wings into 1958, however the command realized the massive investment needed to transfer entire bomb wings overseas. At the same time, the United States was negotiating the improvement and use of air bases in Spain and Morocco.

Reflex
Beginning in 1957, SAC had established "Operation Reflex Action" - sometimes simply referred to as "Reflex" - which saw a handful of B-47s (Lincoln records initially say five aircraft, but another book hints at two flights of three overlapping by a week) fly overseas for brief 3-week alert tours at foreign bases instead of a full 90 days. The bulk of the bomb wing remained at it's home station.

Below are the approximate dates of Reflex Action rotations conducted by Lincoln crews. While the term "Reflex" is generally found in relation to B-47 rotations, overseas/Canadian tours of KC-97s assigned to Lincoln are also often referenced as "Reflex" as well as a "catch-all" term. In reality, operational names were different. (For instance, rotations for 98th AREFS KC-97s to Lajes Air Base in the Azores were actually named "Short Punt").
98th Bomb Wing
Early 1958 - June 1963 .................RAF Upper Heyford, England
June 1963 - March 1965 ...............Torrejon Air Base, Spain
98th Air-Refueling Squadron (TDYs)

January 1955 - March 1955 ........ Goose Air Base, Labrador, Canada

Late 1955 ................................... Keflavik, Iceland (Part of Operation Texas Star, brief TDY from the "Red Cap" TDY at RAF Greenham Common)

December 1956 - March 1957 .... Harmon Air Base, Newfoundland, Canada
December 1957 - April 1958 .... Harmon Air Base, Newfoundland, Canada
April - July 1959 .......................... Lajes Air Base, Azores, Portugal (Note: Forward aircraft placed on alert at RAF Upper Heyford, Moron Air Base, Spain, and Side Slimane, Morocco).

Fall 1960 - Mid-1962 ...................Fort Churchill, Manitoba, Canada

Late 1960 ....................................Harmon Air Base, Newfoundland, Canada
September 1962 - January 1963..Lajes Air Base, Azores, Portugal (Note:Cuban Missile Crisis operations extended tour)

307th Bomb Wing
Early 1958 - Mid-1959 ................RAF Greenham Common, England
1959 - August 1, 1962 ................Moron Air Base, Spain
August 1962 - July 1, 1963 .........RAF Greenham Common, England
July 1963 - Jan 1965 ...................Zaragoza Air Base, Spain
307th Air-Refueling Squadron (TDYs)

March 1955 - May 1955 .............Goose Air Base, Labrador, Canada
Summer-Fall 1957 .....................Thule Air Base, Greenland, Denmark
September 1958 ........................Harmon Air Base, Newfoundland, Canada
July 1959 - ??? ............................Lajes Air Base, Azores, Portugal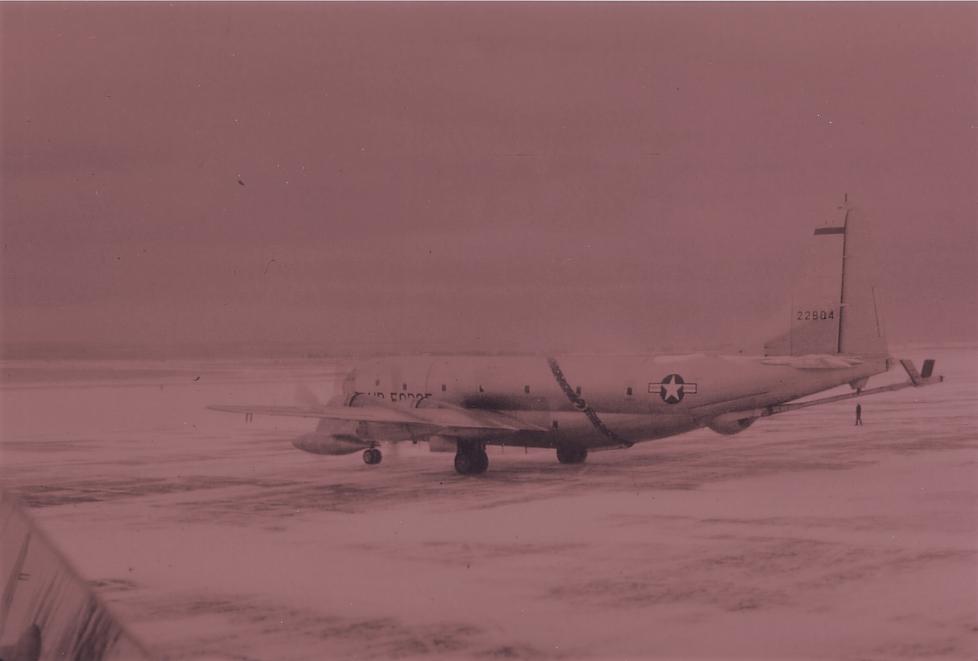 Both 98th and 307th Air-Refueling Squadron crews sometimes experienced bone-chilling tours at northern bases such as Churchill in northern Manitoba (in an area frequented by polar bears) and Thule in the north of Greenland.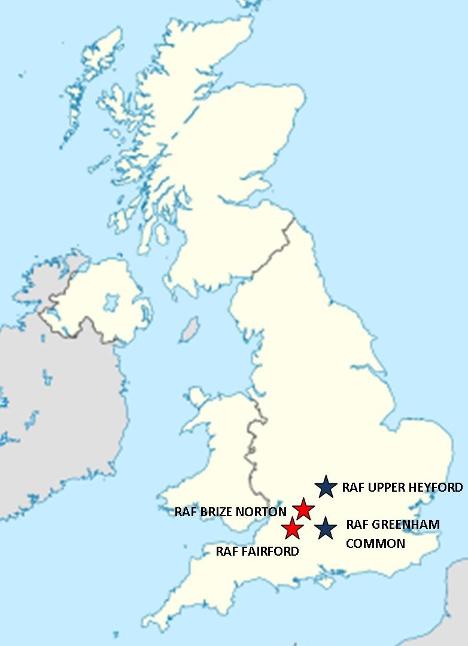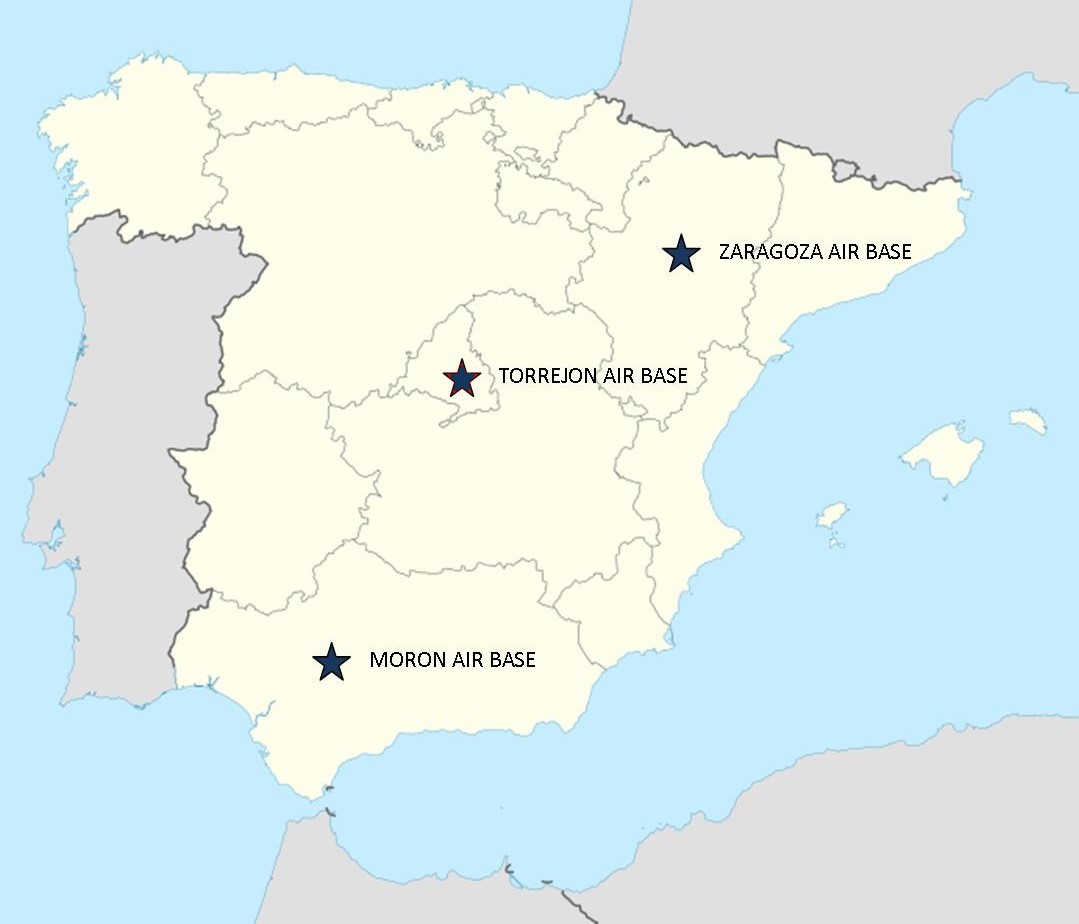 Selected "Reflex Action" bases in the United Kingdom and Spain. Bases utilized by Lincoln B-47s are in blue

Reflex in Action
Flights of Lincoln B-47s transited across the Atlantic to Reflex bases with the help of KC-97 and later KC-135 tankers. After landing, crews were debriefed and went to rest before the aircraft and crews they were replacing departed. Ground crews quickly refueled and armed the aircraft readying them for ready ground alert. The entire Reflex rotation required a three-week tour overseas, two weeks on "Alert" and ready for take-off with one week in between for rest and sight-seeing.

Other B-47s from other SAC bases would conduct Reflex overseas at such bases as Nouasseur, Ben Guerir, and Sidi Slimane Air Bases in Morocco. In Alaska, B-47s would forward base on alert at Elmendorf Air Force Base while "Operation Air Mail" - essentially "Reflex Action" with another name - was conducted at Anderson Air Force Base in Guam until B-52s replaced the B-47s in 1964.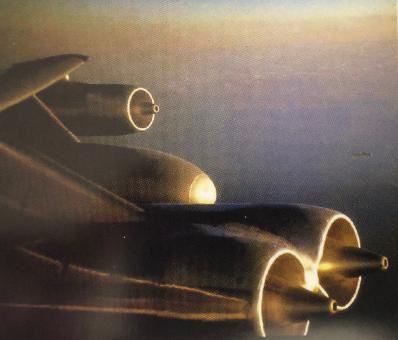 307th BW B-47 returning from Reflex across the Atlantic. Note the B-47 in the distance. 307th Bomb Wing Assoc.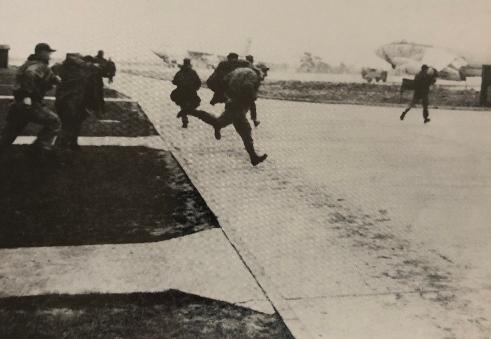 Crews race to their aircraft on alert at RAF Greenham Common circa 1958 307th Bomb Wing Assoc.

End of Reflex Action
By 1964, a number of factors were influencing the basing of nuclear-armed bombers overseas. Perhaps the largest reason for the decline of overseas basing was the ready availability of "Zone of Interior" based B-52s with intercontinental range and supporting KC-135 jet tankers. Beyond this, the introduction of Intercontinental Ballistic Missiles brought a new factor into nuclear deterrence with the numerical strength of Minuteman missiles essentially replacing those of the aging B-47.
The United States also recognized the possibility of changing politics in host nations. Factions could grow hostile to the American presence or resent the basing of nuclear weapons on their soil. A year after Reflex ended, the infamous Palamores Incident in which after a B-52 collided with a KC-135 tanker over Palamores, Spain resulted in the inadvertent release of three nuclear weapons on Spanish soil (a fourth was lost for a time in the ocean off Spain) and a souring of relations after the incident.

Finally, the with the mission of the B-47 effectively replaced by the Minuteman missile and the B-52, the aircraft was allowed to retire as a bomber in 1966. Future and contemporary American "Medium" nuclear bombers like the B-58 or FB-111 could potentially stage overseas, but they were never placed on a semi-permanent alert status at overseas bases like those conducted by the B-47.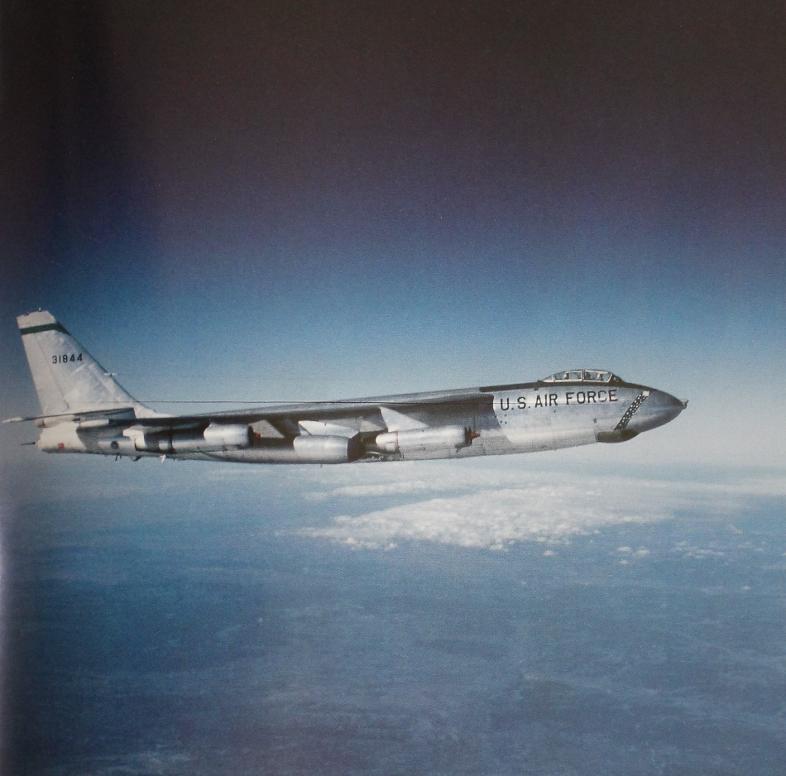 B-47 en-route for a Reflex tour circa 1960. 307th Bomb Wing Association.

Notes: Hunter, Mel "Strategic Air Command". Doubleday 1961
Hill, Michael "Cold War Cornhuskers". Schiffer Publishing 2011
98th BW Association "Force for Freedom: The Legacy of the 98th" Turner Publishing 1990
Polmar, Norman "Strategic Air Command: People, Aircraft, and Missiles" Nautical and Aviation Publishing Company of America. 1979