Those Who Gave The Ultimate Sacrifice

Lincoln Air Force Base was not immune from accidents during the early years of the jet age. B-47s made up the majority of major aircraft incidents from 1956 to 1964 although noted below too are those with the SAC aero club and the U-6 incident of 1964. We remember the sacrifices of those who served during a Cold War that often times still claimed lives.
Jeff King at his own Lincoln AFB site has produced a more substantial collection of aircraft accidents at Lincoln in a .pdf file. You can view that page here.
The B-47 Association also has a substantial list of all B-47 incidents including those at Lincoln Here


6 April 1956 B-47 Crash near Ceresco

Capt. James Sullivan
Lt. Anthony C. Marcenti
Lt. Lawrence A. Schmidt
A1C James I. Berry

2 May 1956 B-47 Crash near Raymond

Capt. Marlon Perdue
Capt. Charles Stonsifer
Lt. Linwood H. Mcintosh
SSgt. William F. Rockholt Jr.

28 July 1956 B-47 Crash at RAF Lakenheath

This accident some have remarked as "Nearly turning southeast England into a desert" although records tend to state this was not the case.

A 307th Bomb Wing B-47 commanded by Captain Russell Bowling was performing "Touch-And-Goes" when the aircraft lost control, "proposing" or otherwise bouncing down the runway, during landing and careened into a nuclear weapons storage bunker. The entire crew was lost and while burning jet fuel consumed three Mark-6 low-kiloton nuclear weapons. A bomb disposal expert remarked that it was a miracle the firing mechanisms on one bomb did not activate and detonate the high explosives, causing not only destruction but a possible spread of low-level radioactive materials (but not an actual nuclear explosion) . The incident is well documented, including a mention in Eric Schlosser's "Command and Control". A link to the declassified SAC memorandum to Gen. Curtis LeMay is available HERE
Capt. Russell R. Bowling
Lt. Carroll W. Kalberg
Lt. Michael J. Selmo
Tsgt. John Ulrich

Bowling Lake was posthumously named for Capt. Russell Bowling in 1958.


10 Oct 1956 C-118 Crash off Azores

Combined members of the 307th Bomb Wing flown by a U.S. Navy crew
.
A massive multi-national search ensued for weeks afterward bringing in dozens of ships and aircraft to search for the downed airmen and crew. Unfortunately nothing was ever found of the aircraft.
Captain Kenneth E Goodroe
Captain Robert W Ryan
MSgt William A Caisse
SSgt Thomas I DeCota
A1C Alton J Gaines
A1C Orest D Giancola
A1C Billy B Grogan
A1C Eugene D Gruenberg
A1C Richard K Hunter
A1C Ronald L King
A1C Robert Lada
A1C Joseph D Loontiens
A1C Michael C Macedonia
A1C Ronald F Mountain
A1C Stanley L Osgar
A1C Keith A Peterson
A1C James L Schorr
A1C Robert C Urban
A1C Earl F Vasey
A1C Herbert A Banks
A2C Albert L Beard
A2C Dale R Brockman
A2C Conrad J Buehler Jr
A2C Edmond R DeWolf
A2C John F Disanto
A2C Raymond E Drake
A2C Lyle C Giberson
A2C Gene O Godfrey
A2C Cloyse A Hepler
A2C Gerard A Hummel
A2C Robert H Lipina
A2C George F Luce
A2C William R Ray
A2C Leonard J Roman
A2C Henry J Schuver
A2C Robert D Spurling A
A2C James B Whitlock
A2C Frank C Williamson
A3C Roscoe F Deel
A3C Willie B Ferguson
A3C Ronald L Gardner
A3C Charles W Hannah
A3C Lloyd D Harding
A3C Lee R Kane
A3C Sherman W Lock
A3C Ralph M Pacelli
A3C Donald L Reynolds
A3C Abelardo Siller Jr
A3C Bruce B Stewart
A3C Earl E Tanner

17 Nov 1956 ANG F-80 hits B-47s
Nebraska Air Guard pilot Lt. Robert Young mistakenly thought that a night-time lit taxiway was the runway and proceeded to land. The aircraft smashed into three parked B-47s at Lincoln claiming the life of the pilot and two airmen on the ground.


Nebr. ANG Lt. Robert L. Young
A1C John L. Delancey
A2C Donald R. Price

13 Dec 1957 B-47 Crash

Maj. William F. Gardner
Capt. Byron H. Blackmore
Capt. William A. Baldwin Jr.
18 Feb 1958 Drop Tank Accident

B-47 jettisons drop tanks but miss safe area, one stuck the Aero Club hangar and the other B-47E 53-6204
Crew Chief
A&E Technician

28 Feb 1958 310th Bomb Wing B-47 Drop tank accidentally jettisoned at RAF Greenham Common


Two full 1,800 gallon drop tanks were ditched by a 310th Bomb Wing B-47 operating in the area. As they landed, they killed two Lincoln AFB airmen but also caused a catastrophic fire that burned for 16 hours, consuming a B-47 loaded with a nuclear weapon on the ground. (Correction on earlier entry follows) This was alleged to be a nuclear accident with a claim that the B-47's 1.1 megaton weapon's high explosives detonated and scattered radioactive material across the airfield. However I can find little substantiation to the story on the internet. On the other hand I can't seem to find much information about the accident period.


SSgt. Carter J. Pauley
A1C Richard F. Goguen

24 April 1958 RCAF Goose Bay B-47 Crash

Lt. Benjamin C. Iglaurs
Lt. Thomas H. Opsomer

8 Oct 1959 B-47 Crashes On Takeoff at Lincoln
One note of interest with B-47 take-off crashes. Early ejection seats (pilot and co-pilot) worked much better at high altitude and higher speeds while the navigator's ejection seat fired downward (which didn't work very well when taking off). Many B-47 accidents at Lincoln involved a fourth crewmen on an airplane with three regular seats. The fourth man often sat down below the co-pilot and was often observing or training.


Major Paul R. Ecelbarger
Lt. Joesph R. Morrissey Jr.
Capt. Lucian W. Nowlin
Capt. Theodore Tallmadge

15 April 1960 KC-97 Crash at Lincoln
No Casualties
(Picture Below)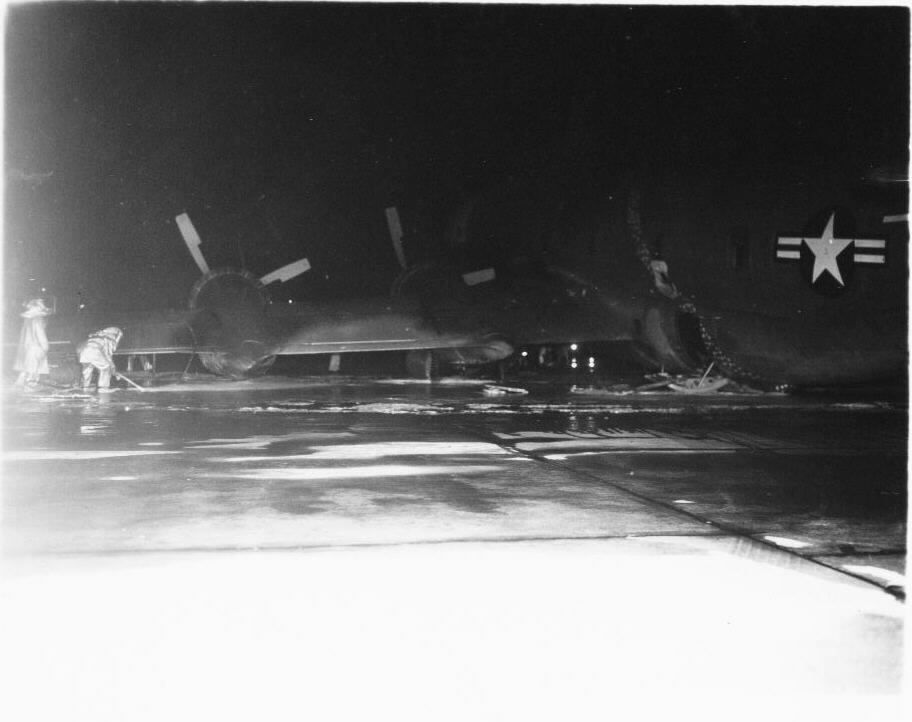 24 Aug 1960 SAC Aero club crash

Lt. Paul Bogoni
Lt. Donald E. Hitchcock

18 June 1961 B-47 Crashes on takeoff at Lincoln

Capt. Russell Holst
Capt. Albert Marinich
Capt. Allan Matson

15 Nov 1961 B-47 Crashes on takeoff at Lincoln

Capt. Richard Davidson
Lt. William J. Holley
Capt. Lee A. Thorin
Capt. Dick L. Foster

11 Jan 1963 B-47 Crash at McConnell AFB, KS

Captain Paul Pudwill

5 Feb 1963 RAF Greenham Common B-47 Crash

Capt. Richard C. West

20 Feb 1963 B-47 crash in Minnesota

Capt. Donald L. Livingston
Lt. Michael R. Rebmann
Lt. Thomas J. Hallgarth
Lt. Col. Lamar Ledbetter

7 Mar 1963 B-47 Crash North of Lincoln "Soldier Meeks"
Regarded as a major incident, Major Jim Meeks was a very well respected and admired aircraft commander. On March 7th, 1963 as his B-47 lifted into the air a JATO bottle boosting the B-47 skyward burst and sent deadly shrapnel into the fuselage. Forcing the aircraft skyward Meeks gained enough altitude to ensure the rest of the crew was able to ditch. He helped control the aircraft long enough to ditch the aircraft in a safe area away from the base and in farm fields. Unfortunately upon ejecting his parachute failed to open.


Major N.V. Meeks


12 July 1963 B-47 Crash in Spain

Capt. Benjamin A. Quam

3 June 1964 B-47 Fire
No Injuries/Deaths

27 July 1964 B-47 Crash near I-80

Capt. Thomas E. Sutton
Lt. David C. William
Lt. Terrance P. Murphy
Maj. John F. Sakry

22 Nov 1964 551st SMS U-6 Beaver Crash near Nebr. City
Marked today by a Nebraska State Historical Marker, a U-6 crashed on take-off as it collided into a group of powerlines sending the aircraft into the ground. The missile crew was coming off of a 24 hour shift at the Nebraska City Atlas-F site.
Maj. Robert E. Wilson
Maj. Lee J. Crait
Lt. Chester E. Higgenbothan
A1C Donald W. Moore
A1C David R. Theriot
SSgt. Harold L. Hrenchi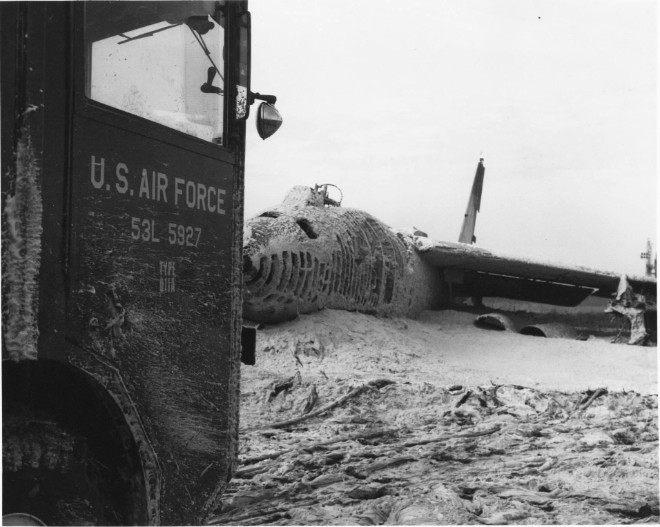 Lincoln fire crews douse a B-47 in foam after it crashed. It's unknown which crash this was but was likely either in 1961 or 1964.
I'd venture to say this is the 3 June 1964 B-47 fire during a taxi.