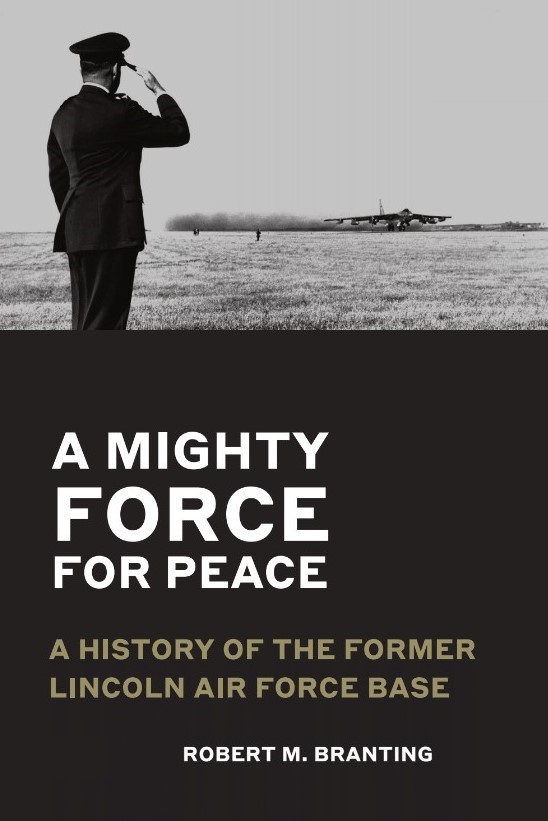 "A Mighty Force For Peace: A history of the former Lincoln Air Force Base" - Is not only a comprehensive story of the former Lincoln AFB, but an in-depth look at the details of an average Strategic Air Command bomber base that existed throughout America in the 1950s and 1960s.

From 1954 to 1966, Lincoln, Nebraska, was home to one of America's most important bomber bases of the Cold War. Its B-47 Stratojet bombers, KC-97 air-refueling tankers and later Atlas-F Intercontinental Ballistic Missiles provided the United States with a nuclear deterrent the likes of which the world had not yet seen.

Only a small fraction of the greater Strategic Air Command, the airmen of Lincoln stood vigil during the darker days of the Cold War, including the Cuban Missile Crisis. Beyond the flight line and missile silos, the story of Lincoln Air Force Base is that of the individual airman. A Mighty Force for Peace delves into the stories of the young men that came to Nebraska to repair jet engines, to provide security for a nuclear base, to serve meals, to manage fuels, to be a part of a defense community few in Lincoln remember today.
In the shadow of the mushroom cloud, Lincoln Air Force Base prepared for the unthinkable. Aircraft and missiles based there carried unimaginably destructive weapons for the sake of deterrence, weapons whose purpose was never to be used. In the twenty-first century, we look back at those weapons, the strategies, and the individuals that built the fascinating and enduring legacy of Lincoln Air Force Base.
It's finally here! Our 467-page book explores the persons, places, and history of the former Lincoln Air Force Base from 1954-1966 and beyond. 'A Mighty Force for Peace" is the result of a 20-year effort into research and interviews with veterans and is unlike most contemporary air base histories, instead it delves deeply into the missions of each unit on base along with discussions on the triumphs and tragedies of Lincoln Air Force Base.
Order your copy now!
$36.95 plus $4 Shipping ($40.95)