818th Installations Squadron / 818th Civil Engineering Squadron

Mascot: "Hercules" The CIO Beaver

Activated: October 11 1954 (Components active earlier)
Re-designated: September 1 1958 (Civil Engineering Squadron)
De-activated: June 25, 1966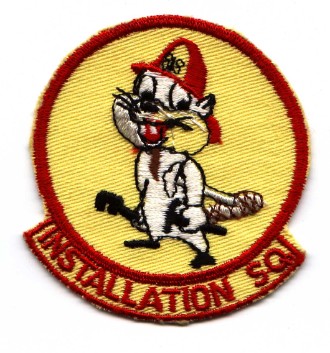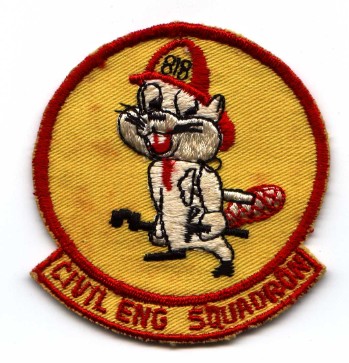 Building #1134 provided the Civil Engineering Squadron space for workshops including for carpentry, electrical and plumbing.

Building #1152 provided offices for the 818th CES leadership and administration. This building is now gone.

Mission:
The mission of civil engineering squadron was to support the the maintenance, fire-fighting services and construction oversight of Lincoln AFB.

"Provide all work and services in the management and custody of fixed real property (other than industrial), planning, programming, justification, acquisition and design and construction of new facilities; provide maintenance, repair, improvement and disposal of existing facilities; provides fire protection, crash rescue, janitorial and services
- 1965 Unit Manning Document

History

:

The 818th Installations Squadron took care taking services from the 98th Air Base Group when the 818th Air Division was activated. Its name changed during 1958 becoming the 818th Civil Engineering Squadron.

The 818th CES was one of the last squadrons operating on base prior to deactivation in June 1966, tasked with phasing down maintenance and care taking of the base before those tasks were phased into the 4255th Air Base Squadron.



Links
Role of the 818th CES at Lincoln AFB
818th IS/CES personnel were involved with maintenance tasks on base which included everything from snow removal, carpentry, plumbing, HVAC, electrical, masonry, janitorial, grounds-keeping as well as fire-fighting and a multitude of other tasks.
Based predominantly out of the "CIO Compound" area to the south of the warehouse area and north of Motor Vehicle Squadron area, shops were provided for most of the specialties with various sheds and storage buildings available to store needed equipment such as snow plows, tractors, extra supplies, paints and a multitude of other items.
A Lieutenant Colonel generally led the squadron and many of its specialists were civilian.