Last Missions:

The fates of Lincoln's aircraft and missiles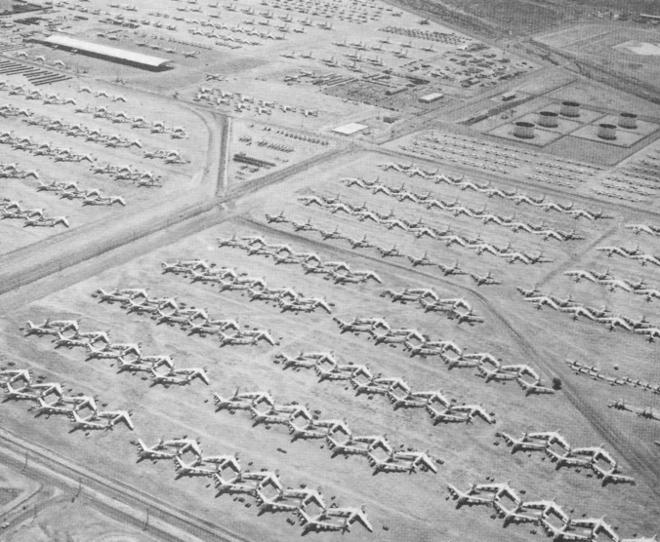 Awaiting the torch in the desert sun of Arizona. Retired B-47s parked at Davis-Monthan Air Force Base near Tuscon in the late 1960s. (Photo: USAF)

B-47s
Lincoln stood up at the end of an era in aircraft production. During World War II tens of thousands of aircraft were produced for the war effort and when the war ended, the military was left with a lot of airplanes without any practical value for peacetime use. In the 1946 film, "The Best Years of Our Lives" one former airman visits a "boneyard" or aircraft graveyard where various old bomber planes are being cut into scrap. Many B-17s and B-29s were "cocooned" or sealed against sand and sun damage in the Southwestern U.S. should they be needed to be activated again. The days however of such massive air forces were over and the planes became scrap, recycled for use in aluminum housing as said in that movie or for other uses.
The B-47 bomber force was the last of the "thousand-bomber" productions to occur with over 2,000 built. We know a few of these made it to Lincoln and even towards the late 1950s these aircraft began to run "high hour" (or running a lot of mileage on their airframes) and became too antiquated to be utilized as front-line bombers. The first B-47s were mustered out of SAC service in 1957 (same as the last production models introduced). Forced to learn low-level strike missions, B-47s even under modification became more highly stressed in flight. Flying high altitude allowed for a less strenuous ride while low level work forced pilots to turn and maneuver more often. The thin wings and light aluminum structure of the B-47 meant that the last years of its life were stressful ones. Accelerated phase out began after the Cuban Missile Crisis and the last B-47s in SAC, at least the bombers, were gone by February 1966. Lincoln's B-47s were gone by December 1965.
Two of the bombers at Lincoln were earmarked for museum preservation. One of the last to leave on December 7, 1965 was flown to Wichita, Kansas where it remains on static display near McConnell Air Force Base. The infamous incident of 53-6244 meanwhile, the last production line B-47E, became the stuff of 307th Bomb Wing legend. Flown from Lincoln in pristine condition, this bomber sat outside the gates of the United States Air Force Museum for many years until being turned into a fire simulator aircraft for base fire crews. Nothing remains of 6244, an EB-47E sits instead at the museum.
The remainder of Lincoln's B-47 force was scrapped at AMARC, Davis-Monthan Air Force Base in Arizona. This preservation and regeneration center for retired Air Force and Navy aircraft kept Lincoln's force in its inventory for a little while. Scrapping of the B-47 force as a whole began in 1968 at least according to AMARC records although some B-47s still sat under the sunny skies of Arizona up into the 1970s. Today the aluminum of the B-47s might be found in anything from building materials to soda cans.
KC-97s
The Stratotankers of Lincoln mostly shared the same fates as the B-47s, although some stayed in the Air Force for a while longer. While I have no evidence of Lincoln tankers doing so, KC-97s were sometimes upgraded with jet engines and served on with the Air National Guard into the late 1970s. Others were converted into freighters and there is at least one Lincoln KC-97 of the 307th Air Refueling Squadron still in existence, weathering the harsh conditions of the Bighorn Basin of Wyoming near the community of Greybull.
Atlas
Atlas-F missiles at Lincoln tended to have far greater fates than the aircraft. Removed from their silos between January and April 1965, they arrived at Norton Air Force Base in California via C-133 aircraft and were promptly put into storage. Other purpose-built rockets and surplus Atlas missiles were fired by the U.S. Air Force for space missions by 1959 and 1968 respectively. Interestingly Titan-I missiles tended to be fired in anti-missile tests over the Pacific Ocean in support of the Army's Safeguard ABM program while Atlas E and Fs became a part of an individual program (since both missiles were virtually alike save their SAC basing roles). The first Lincoln Atlas, Site-12's (Brainard/David City) was sent aloft in 1968 as a part of an Air Force program. Site-3's (Eagle) Atlas-F model number 59 was sent up to space with an Electronics Intelligence satellite payload supporting the U.S. Navy's ocean surveillance program in April 1976. Site-6's (Tecumseh) attempted to put up a forerunner to today's GOES satellites of NOAA (the satellite pictures you might see on the weather channel come from these satellites, invaluable to the Midwestern tornado alley states!). Unfortunately the second (well, half) stage fired prematurely when the first stage failed to thrust the rocket fast enough and put the satellite up into a useless orbit…a costly error.
Five of Lincoln's Atlas-Fs however fielded the first of America's GPS satellites. GPS 2, 3, 4, 5 and 6 constituted part of a program to provide detailed directional information to troops on the battlefields around the world. Later the availability of tracking devices to within a few yards on the planet surface was offered to civilian markets. Today of course, many of our car GPS receivers, our cellular phones and many other devices work off this technology. It has come a long way since directing artillery to helping us find the nearest pizza restaurant.The original satellites cost up to 20 million dollars each.

Other Lincoln Atlas missiles however were salvaged and scrapped. None of the original Lincoln missiles remain and the Atlas E/F program, in support of the Air Force and NASA space programs only ended in 1995 with the firing of the last stored Atlas-E, 30 years after they were retired from the nuclear deterrent. These rockets were not fired in war; if they were several million Soviets would have perished as a result. Instead they were used to further American exploration of space. Ironically later variants of the Atlas rocket were powered in fact by Russian engines.
Serial Number

Atlas #

Base/Site Number

Site

Fate

Arrived NAFB

Launched

Remarks

60-5542

19F

Lincoln AFB #6

Tecumseh

NAFB Storage

26-Mar-65

29-May-80

NOAA-B Weather Satellite (Launch Failure,

reached useless orbit due to second stage

firing while first stage still burning on

extended burn due to poor performance)

60-5545

22F

Lincoln AFB #7

Courtland

Salvaged

9-Apr-65




X

60-5549

26F

Lincoln AFB #5

Palmyra

Salvaged

13-Apr-65




X

60-5557

34F

Lincoln AFB #1

Elmwood

NAFB Storage

15-Apr-65

26-Apr-80

GPS-6 Nav Satellite (Retired 6 March 1991)

60-5558

35F

Lincoln AFB #11

Seward

NAFB Storage

13-Apr-65

9-Feb-80

GPS-5 Nav Satellite (Retired 11 May 1984)

61-2524

38F

Lincoln AFB #10

York

Salvaged

26-Apr-65




X

61-2525

39F

Lincoln AFB #8

Beatrice

NAFB Storage

24-Mar-65

11-Dec-78

GPS-4 Nav Satellite (Retired May 1990)

61-2526

40F

Lincoln AFB #9

Wilber

Salvaged

19-Apr-65




X

61-2533

47F

Lincoln AFB #2

Avoca

NAFB Storage

31-Mar-65

7-Oct-78

GPS-3 Nav Satellite (Retired 18 May 1992)

61-2535

49F

Lincoln AFB #4

Nebraska City

NAFB Storage

21-Apr-65

13-May-78

GPS-2 Nav Satellite (Retired Feb 1988)

61-2545

59F

Lincoln AFB #3

Eagle

NAFB Storage

12-Apr-65

30-Apr-76

NOSS-1 ELINT Naval Surveillance Satellite

62-12137

101F

Lincoln AFB MAMS




Salvaged

3-Jan-65




X

62-12144

107F

Lincoln AFB #12

David City

NAFB Storage

6-Apr-65

6-Apr-68

OV1-13/OV1-14 Program


Magnetosphere research

Ultimately, Lincoln's nuclear forces did what they were designed to do…and that was never to be used in war. Perhaps one might consider the scrap yard an honorable retirement in a way, since they were never used in anger demonstrates their successful missions. While Lincoln's contribution to the GPS satellite world has long since faded (those satellites having lived their lives and subsequently were retired by the early 1990s and replaced by more capable systems), their contribution to the world we live in today was substantial. Not only did they help provide scrap to metal recyclers to be furnished back into useful products or send peaceful satellites into space, the successfully provided a portion of the American nuclear deterrent, in which some argue provided us life and freedom today.
Notes: Encyclopedia Astronotica
http://www.astronautix.com/lvs/atlas.htm
Wikipedia Atlas E/F
http://en.wikipedia.org/wiki/Atlas_E/F
Atlas Missile Disposition
http://www.siloworld.net/DOWNLOADS/Convair%20GD-A%20Missile%20Disposition.pdf
Atlas F Status and Flight Program Summary
http://www.siloworld.net/DOWNLOADS/Convair%20GD-A%20Missile%20Disposition.pdf